01.

How it works
Get Started
StylistEye gives you exclusive and unrestricted access to your favorite fashion stylists, bloggers and fashionistas. Let them help you to organize and update your wardrobe.
Create your profile

Sign up and complete our questionnaire. Your online profile tells your stylist of choice everything they need to know about you, such that consultations are tailor-made to suit your shopping needs, style, and budget.

Download the application

Our Application helps you to create your own online photo-bank with just a few clicks. It's never been so easy!

Create your virtual wardrobe

Your virtual wardrobe is an online version of your actual wardrobe. Just take a couple of pictures of you and your wardrobe! Only you and your hired stylist will be able to access these photos.
02.

How it works
Get Styled
Be styled by your favorite fashion icon from anywhere in the world. Have your wardrobe organized, optimized and updated. Take the frustration out of shopping, by simply following the recommendation of experts to the best online stores for your purchase.
Choose your stylist

Work with your favorite fashion influencer or find somebody completely new, regardless of the distance between you! Be styled with Parisian Chic or Beach boho in Australia, the choice is limitless.

Select service

Select either Wardrobe Organization or Wardrobe Update. Remember, to get ideas for new outfits, you firstly need to understand how your current wardrobe is working!

Wait for the Recommendations

Your stylist evaluates your wardrobe, gives you recommendations and pulls together 6 outfits from your wardrobe for you. Stylist could also opt out for brand new outfits or a combination of new and existing pieces.
Sign up
For more information please visit our FAQ
03.

SERVICES
NeW LOOK FOR YOU
Did you know that according to many independent studies, most people wear only 20% of their clothes 80% of the time? It's time to switch it up with a well-planned wardrobe which saves you energy, time, money and wardrobe space.
Let our elite stylist team get you a functional wardrobe that is organized and updated with new clothes, and perfectly matched existing pieces, which fit your body, style and wallet. You will get recommendations on your body type, what best fits your shape, as well as what belongs in the trash.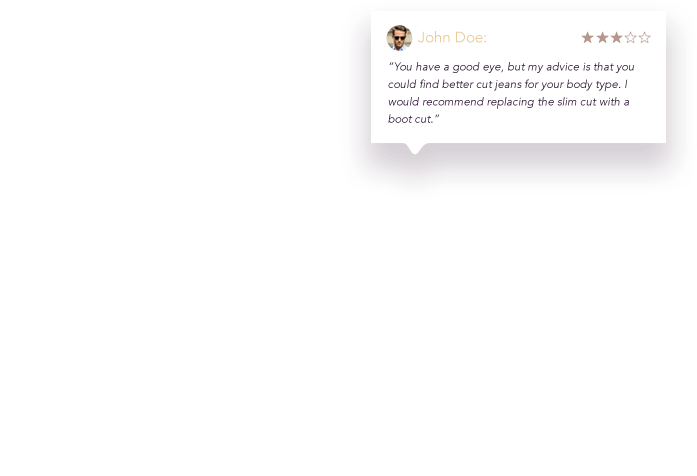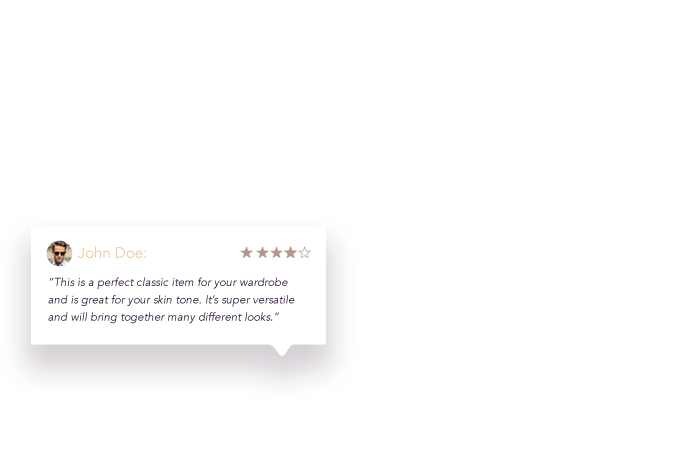 Wardrobe Organization
Your virtual wardrobe is evaluated by your stylist who gives you feedback on what to wear and what you should get rid of.
Using the chat available on our application, you'll receive personal recommendations for your body type, wardrobe and style, in real time.
Your stylist puts together six outfits from the existing pieces in your wardrobe.
You can share photos of your outfits with your stylist for a final evaluation.
Wardrobe Update
We know that shopping for clothes in stores can be overwhelming, inconvenient, and often frustrating.
Let your stylist know what you are searching for: whether it be something for a special occasion, to closet essentials, work outfits or clothes to take on your vacation.
Outfits selected by your stylist can compose of pieces you already have or those available for online purchase. You can easily work these into your wardrobe by making a purchase directly via the URL links supplied to you.
Take the frustration out of shopping by using your recommendations to shop online from the comfort of your home.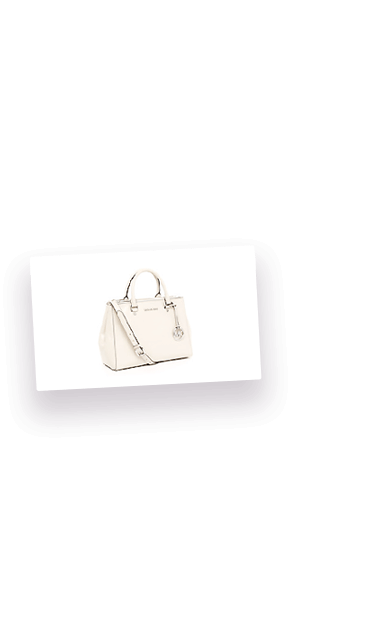 04.

Stylist
FIND YOUR PERSONAL STYLIST
We only work with the best proven fashionistas from all over the world, thereby offering you a range of contacts to suit your budget. We vet and select only topnotch individuals because your style deserves to be in the care of the best hands and minds.
SEE ALL STYLISTS & RATES
Adriana Menephee
United States
Isaiah Dorty
United States
Malvika Billa
France
Fanny Rubin
France
Dilya Shorfova
United States
Chaendra Gittens
Canada
Marlene Anzaldua
United States
Dominique Rollins
United Kingdom
Rashi Bindra
Canada
Yvette Purdie
Canada
Viktoria Bursak
Macedonia
Grace McKillion
United States
Anastasiya Mala
Ukraine
Jumoke Shotonwa
Nigeria
kashvi chauhan
United States
Georgia Tsaousidou
Greece